2,996
2,996 What does that number mean to you? To me, it represents loss, unbearable, unnecessary, irreplaceable loss. It represents sadness & disbelief, tears & anguish. It represents 2,996 lives that were needlessly taken, 2,996 people who's loved ones must wonder daily if they were the last person to cross his or her mind. Who wonder, did they suffer, or worse, who know that they did. Who look for them automatically when they want to share a joke, or tell a story, or need comfort after a bad day. Who mourn all over again when they realize that their loved one is gone. They can't see or touch them. Can't hold them or brush a kiss along their forehead. Who can no longer talk with them about the important things, or the not-so-important things.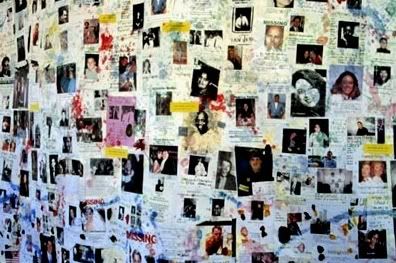 Husbands, wives, children, mothers, fathers, grand-parents, sisters, brothers, aunts, uncles, and cousins. They were all represented there that day. I want to tell you a little about one of the people who is counted among the 2,996. A daughter, a sister, an aunt, a godmother, a friend & a coach. A woman who is survived by her parents, two sisters, five brothers, eleven nieces & seven nephews. Her name was Julie Geis. She was 44 years old. Julie was a warm, kind and giving person, a loving daughter, a devoted aunt, a wonderful sister and a friend to many. Her inner light burned so brightly that its warmth could be felt by anyone she came in contact with. Julie's spirit will never be extinguished as long as her memory is held in the hearts of her family and friends.

(This picture is from one of those friends. The bracelet on the bear is holding has Julie's name & the letters WTC. )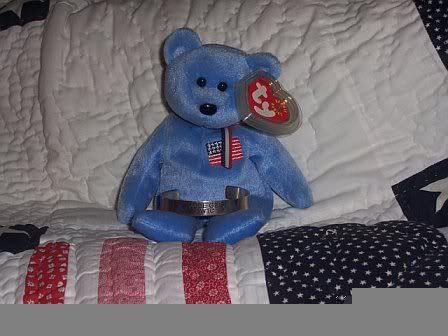 Julie received her Bachelor of Science degree in 1979 from the University of Nebraska in Lincoln, where she attended college on a full athletic scholarship. She was a four year letterwinner at shortstop for the Huskers Softball team and had her jersey (#15) retired on October 12, 2001. (Julie had a lifelong love for the Nebraska Huskers and was an avid Chiefs fan as well. She enjoyed tailgating at Arrowhead Stadium with friends before each home game.) Her undergraduate degree was in Special Education with a Coaching endorsement. In 1982, she received her Master of Arts degree in Educational Psychology and Measurements from the University of Nebraska and continued on there to receive her Ph.D. in Educational-Administration, Curriculum and Instruction in 1989. During this time, Julie was a Special Education teacher in the Crete, NE Public School system and at Culler Junior High in Lincoln, NE. She also worked in the Barkley Center at the University of Nebraska, where she developed a program for students with learning disabilities. Julie moved to the Kansas City area in 1990 where she went to work for the Postal Service in a Management Training Program. In 1994, she moved to Lee's Summit and began working for Crawford & Co. as a Job Placement Counselor. She went to work for Alexander and Alexander in 1995 and continued working there after their merger with Aon Corporation, an insurance brokerage firm. She worked for Aon for almost seven years where she was a Senior Vice President and Director of New Business Development for AonLine. She was in New York City in the south tower on the 102nd floor for a monthly meeting on the day of the attacks Julie had global responsibilities in her position and in the last year had traveled to London, Paris, Mexico City and Brazil. "Aon was getting established all over the world," her Mother, Mrs. Geis said. "She loved the challenge. She loved the people."

Julie loved playing golf with family and friends and found gardening and yard-work relaxing and peaceful when she could find the time. She loved animals and had two dogs at home, Cagney (a Terrier) and Lacy (a Shih Tzu). Julie was a loving person and cared deeply for her family and friends. She always made it home to Nebraska for every Easter, Thanksgiving and Christmas holiday. Julie also had a strong sense of community and was involved in many activities and organizations. She delivered food baskets to needy families and was a member of the Women's Foundation. She was a founding member of Women With One Voice, a non-profit agency which funds programs that serve the health and educational needs of women and children in the Kansas City area, and had served as its president for the past two years. Julie had a passion for helping others and was a strong leader in everything she did.
Julie's remains were not found during the rescue & clean up of the Trade Center towers. Her sister actually traveled to New York to look through the catalog of jewelry & other personal effects that once belonged to the victims. What a brave woman, to face such a horrific task. Bless you.
If you do a search for Julie's name you have to go forward several pages before you can find anything about her that isn't associated with 9-11. I think it's so sad that this successful woman has had her life reduced to one day. To one event. An event not of her making or her choosing. A day that will live on in the hearts of everyone in America. A day that changed everyone.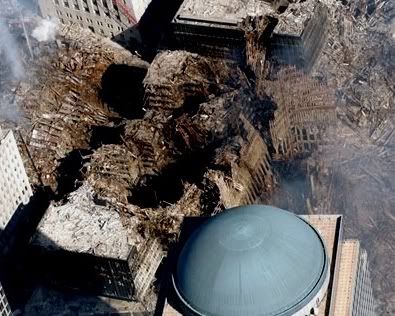 There were many crosses found in the rubble of the buildings. Perhaps a reminder that no matter what people do to us, God is always there. Always present in the rubble of our lives.

To the firefighters & police, & EMS workers, to the citizens who helped others & put themselves at risk, thank you so much. May this country never forget your selfless acts, your bravery, your sacrifices.
God bless us all.


To Julie's family, I am truly, truly sorry for your loss. I din't know anyone who was taken that day, so I was glad to know Julie's name & face. Now when I pray, I can picture her, I can think of your family. Thank you for sharing things about her & letting me get to know her. You are in my thoughts & prayers. God bless you.
Heather Smith


*** Please CLICK HERE to read all the tributes!
****An endowment fund was established by Women With One Voice in Julie's honor, "Julie's Fund." There was also a softball scholarship established by the University of Nebraska in memory of Julie. Donations can be made to "Julie's Fund" through Women With One Voice, PO Box 22523, Kansas City, MO 64113-0253. Donations to the University of Nebraska scholarship fund can be made by contacting the University of Nebraska in Lincoln.
**** Most of this information was taken from Julie's obituary. Some other sites are...
HERE
HERE
HERE
Article about her sister's trip.


**Post will be at the top of Oreo's blog until at least September 12. Please scroll down for current posts & PLEASE, leave a comment for Julie or her family, but you better be nice or Oreo will put the bite on you!! :)